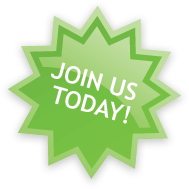 Campaigns
Duke Kahanahamoku – Our Nation Celebrating 100 years since.
"Where is this Honolulu Maori you call Hawaiian?"
Are the words that paramount chief Tureiti Te Heuheu Tukino V of Ngati Tuwharetoa spoke as he made his way through the crowd seeking the Olympic gold medalist giving his surfing demonstration at Lyall Bay to a crowd of thousands in 1915.
After the Dukes stellar performance swimming for Gold at the Stockholm Olympics in 1912, he toured the world and continued to break his own, and other world records in Hamburg, the United States, Australia, and Auckland New Zealand 100 years ago.
Duke Kahanamoku is widely regarded as the father of modern surfing, and is a central figure in our surfing heritage. To acknowledge this great waterman SPS is hosting news of the  events being held around the country in his honour.
Press Release 23 02 2015:
Duke Kahanamoku – 100 years of Surfing in New Zealand
Celebrations are to be held in New Brighton Christchurch, St Clair Beach Dunedin, Lyall Bay Wellington, and Fitzroy Beach New Plymouth to commemorate 100 years since Hawaiian Duke Kahanamoku first demonstrated his swimming and surfing prowess at public events held in Dunedin Christchurch Wellington and Auckland.
The following organisations will be hosting events at their home beaches:



For agenda information of the events, surf to www.surfbreak.org.nz or the above mentioned organisations' Facebook pages.
Christchurch



 http://www.surfbreak.org.nz/wp-content/uploads/2015/02/ChCh-Duke-Centennial-order-of-service.pdf
Dunedin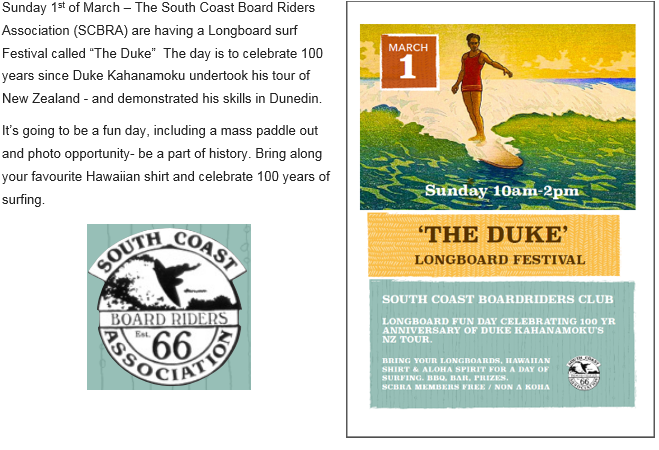 For more info: visit SCBRA on Facebook
Wellington
| | |
| --- | --- |
| . | . |
A combined event hosted on 21st of March – by the Lyall Bay Surf Life Saving Club and the Wellington Boardriders Club. Both clubs will combine resources for a commemorative day in respect of the Duke – who was a guest of Lyall Bay SLSC while he performed his swimming and surfing demonstrations in Wellington.
The open day at the clubhouse will include the dusting off of some really antique boards from the attic and a fun competition is to be held with spot prizes for best Hawaiian costume – vintage costume – vintage board – best performance – best wave – oldest / youngest surfer.
More detail will be released on both club's respective Facebook pages and www.surfbreak.org.nz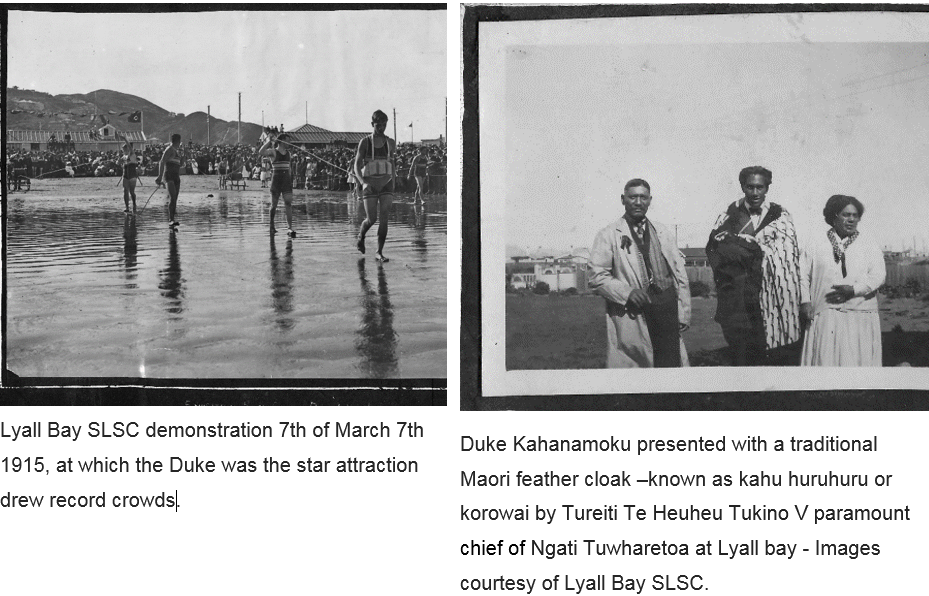 New Plymouth
The New Plymouth Surfriders Club
| | | |
| --- | --- | --- |
| Download the poster here. | The 24th Easter Masters will celebrate the 100th Anniversary of the "Father of Modern Surfing," Duke Kahanamoku demonstrating surfing at New Brighton Christchurch, St Clair Dunedin, and Lyall Bay Wellington. There will be a special commemorative Duke K trophy presented to the winner of the Masters Division, and a special D.K. Ladies trophy. In addition, the major spot prize will be a handcrafted wooden laminated surfboard worth $2,000.00. | download the entry form here. |
Check out the NPSC face book page for more details as they surface: www.facebook.com/pages/New-Plymouth-Surfriders-Club/105271532985785