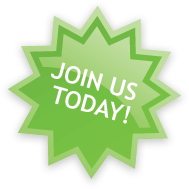 Campaigns
Proposed Airport Extension in Lyall Bay
Lyall Bay is a heritage site for New Zealand surfing, where in 1915 Hawaii's Duke Kahanamoku demonstrated the sport of kings. 100 years on, what effects will the WIAL airport extension have on the Bay for surfing? Read our submission here
This page is a repository for articles relating to Wellington's proposed 300 (350?) meter Airport Extension in to Lyall Bay and will keep our supporters up to date on the submission process.
Our Airport Extension Submission Uploaded 15 February 2016, can be read here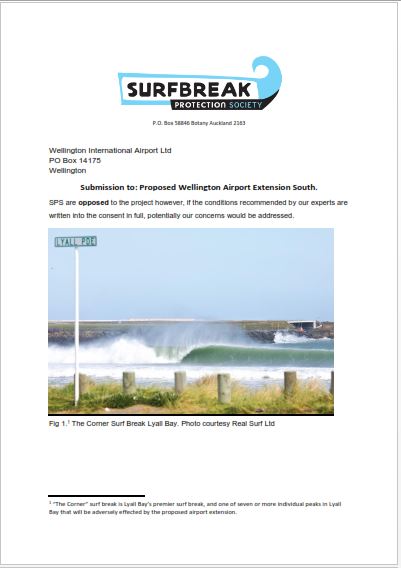 Articles:
January 23rd 2015 Press release
WGTN Airport – Where to for Lyall Bay From Here?
South Coasts "Heavy Wave" Will Disappear With Airport Extension – clarification
This press release clarifies statements in our press release of January 8th regarding swell focusing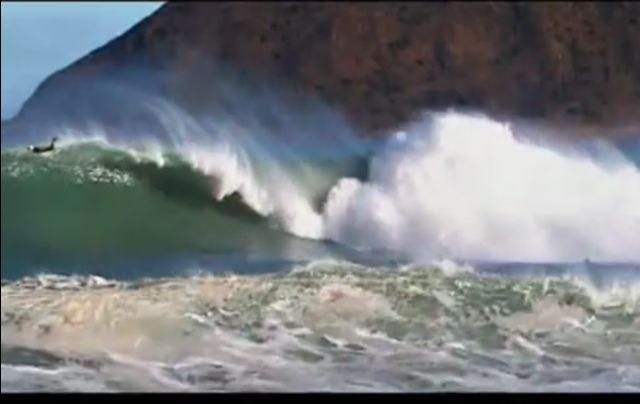 Photo courtesy of Daniel Harrison – Lord of the Dings (Youtube)
The Wellington Boardriders  Club (WBC ) and the Surfbreak Protection Society (SPS) are both concerned about the loss of "Airport Rights," a heavy wave at the end of the airport runway that will disappear if the airport extension goes ahead.
Airport Rights is part of the naturally existing reef system that has already been mostly reclaimed by the airport developments since 1959, says Wellington Boardriders spokesperson James Whitaker.
SPS spokesperson Mike Gunson agrees. "Unfortunately many surfers won't surf Airport Rights because of rubble from the historical airport reclamation in the line up, that includes steel reinforcing rods.
As well as the loss of the surfbreak Both WBC and SPS are concerned that the lengthened runway will reduce the amount of surfable days at the corner due to swell refraction, especially from a south easterly direction as wave energy dissipates down the lengthened wall.
Both WBC and SPS say that this scenario would make waves on an already small day, unsurfable at the corner.
A study done in 2001 found that Lyall Bay only has approximately 27 quality surfing days a year, a swell shadow at the corner would reduce surfable days at the corner for learners and longboards.
The New Zealand Coastal Policy Statement 2010 lends protection to surfbreaks of National significance says Michael Gunson, and Board of Inquiry to the NZCPS recognised Lyall Bay as been a nationally significant nursery surfbreak.
Both WBC and SPS will be utilising the submission process for the extension as much as possible to ensure the best outcomes for Lyall Bay.
Environment Court mediation between SPS and Port Otago in 2013 resulted in the adoption of an adaptive management approach to the placement of dredging spoil within the swell corridor. So far, this process seems to have improved surf quality at Aramoana and maintained the quality of surf at Whareakeake, both nationally significant surfbreaks protected under NZCPS 2010.
With Lyall Bay, if there is to be a reduction of the swell corridor, something like artificial swell focusing may be a useful management tool to mitigate any losses and potentially enhance wave quality in the area – which could result in in a win/win situation for all concerned.
We would like our surf scientists to caucus with WIAL preferably before the formal consent process begins says Mike Gunson of SPS.
Both WBC and SPS state that they are not necessarily opposed to an airport extension, we just want the best outcome for surfing at Lyall Bay.
However both organisations find it a bit ironic that they are facing a submission process to protect our surfing heritage exactly 100 years since the father of modern surfing the legendary Duke Kahanamoku first surfed Lyall Bay.
ENDS.
Useful links:
http://www.surfbreak.org.nz/?p=4332
www.facebook.com/pages/Wellington-Boardriders-Club/98306669182?sk=wall
https://www.youtube.com/watch?v=Y2hihX0O-YQ
WGTN Airport – Where To For Lyall Bay From Here?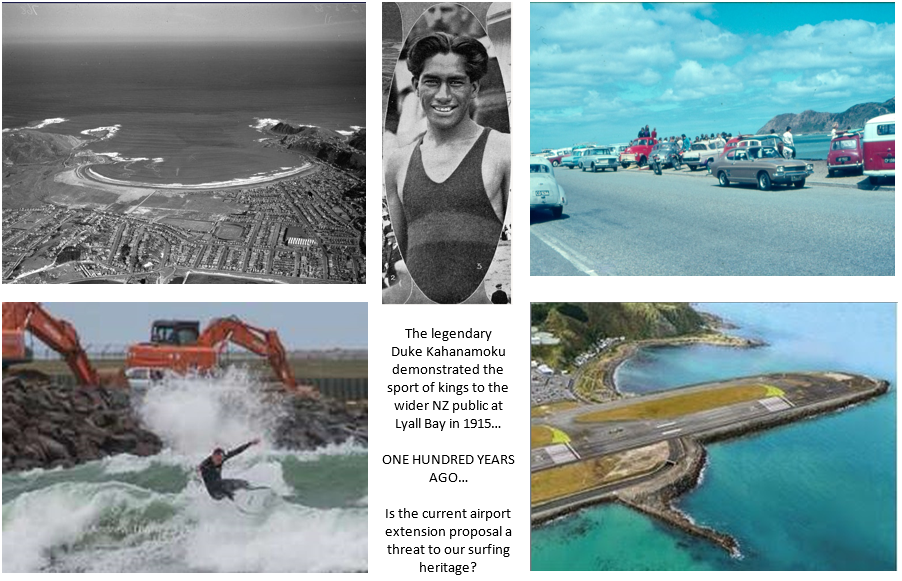 The father of modern surfing Duke Kahanamoku also known as "the ambassador of Aloha" brought Hawaiian surf culture to the U.S. mainland, Australia, and then New Zealand in 1915 – 100 years ago.
Surfing has since spread to numerous countries on all continents, bar Antarctica (perhaps the next challenge?).
With the construction of the North South Runway in 1959 and incremental increases in the runway length, this reclamation now holds a major  influence over Lyall Bay's currents, sediment pathways, swell corridor and surfbreaks. The question is; Will the proposed 300 meter extension south narrow the bay's swell corridor further, and perhaps even cumulatively diminish over all swell height getting into the Bay?
The only way to determine this is with good robust science – surf science that will take into account all of the above mentioned drivers of wave action in Lyall Bay.
1.Currents – those who surf Lyall Bay are familiar with the east – west rip out the front of the clubrooms on an outgoing tide, will the airport extension accentuate or diminish this rip? what effect on the currents/rips (if any) will the extension have on the Corner and the Bend?
2.sediment pathways- obviously influenced by currents and rips, will marine sand accumulate in some areas and diminish in others?
3. Swell corridor – path through which the swell travels to the bay, – will the extension be an obstruction creating a shadow for swell especially on swell travelling from South – East directions.
We need robust surf science – science that measures the effects on surfing wave quality due to seasonal and swell directional patterns – in the current climate.
That means it is necessary to start collecting baseline data right now about currents rips and sediment pathways in the bay,  so that we have a good understanding of these behaviors before construction begins, 3 months worth of data before a consent hearing simply won't cut the mustard.
We will then have a good starting point to apply any adaptive management if need be to counter possible adverse effects on Lyall Bays surfbreaks.

Airport Rights is part of the naturally existing reef system beside Moa Pt. Rd. The reef has already been mostly reclaimed by the airport developments since 1959, The rock at the end of the breakwater is the reefs Western most point.
Some surfers won't surf Airport Rights because of rubble from the historical airport reclamation in the line up, that includes steel reinforcing rods. However, it is one of the city's most powerful big wave spots and is enjoyed by those who are brave enough to tackle it
Airport Rights along with Lyall Bay and the rest of Wellington's regionally significant surfbreaks have recently been identified and mapped for the Wgtn Regional Plan Review by eCoast Ltd of Raglan – the mapping includes swell corridors.
We also have to get the project in to perspective; the computer generated image at the top of this article ( lower right- that appeared in the DomPost July 26) certainly is not in perspective, unless WIAL is looking to extend about 1 kilometer out to sea.
By using simple tools like Google earth and its ruler tool you can see that the extension projects into Moa Pt. Bay, but not out past Moa Point, as the image above suggests.
SPS have generated these images below that are more to scale and perspective: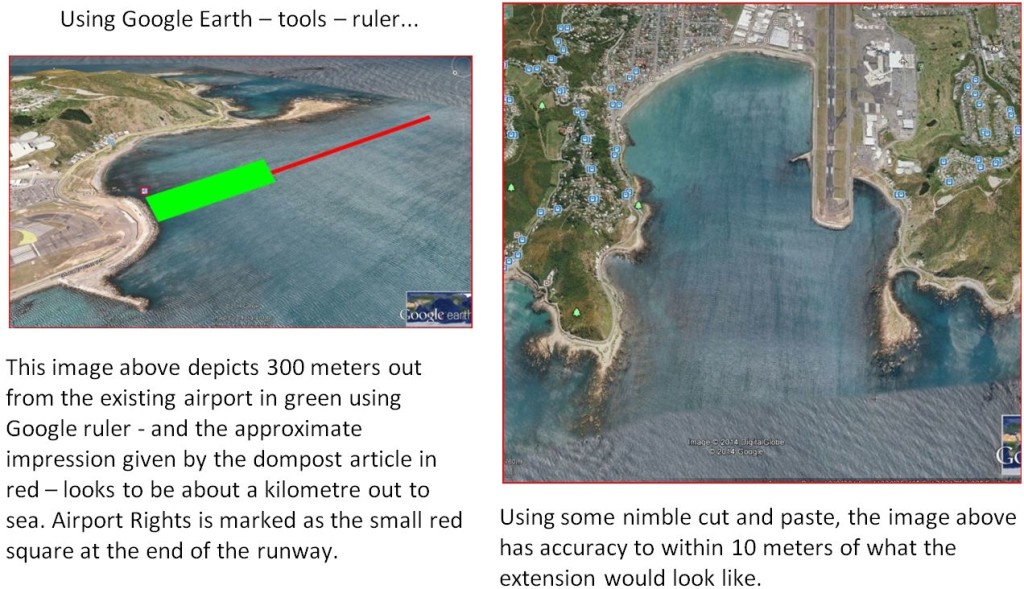 You can also be kept informed of any news or notifications through Wellington City Council portal,
just click on the picture below and fill in the details.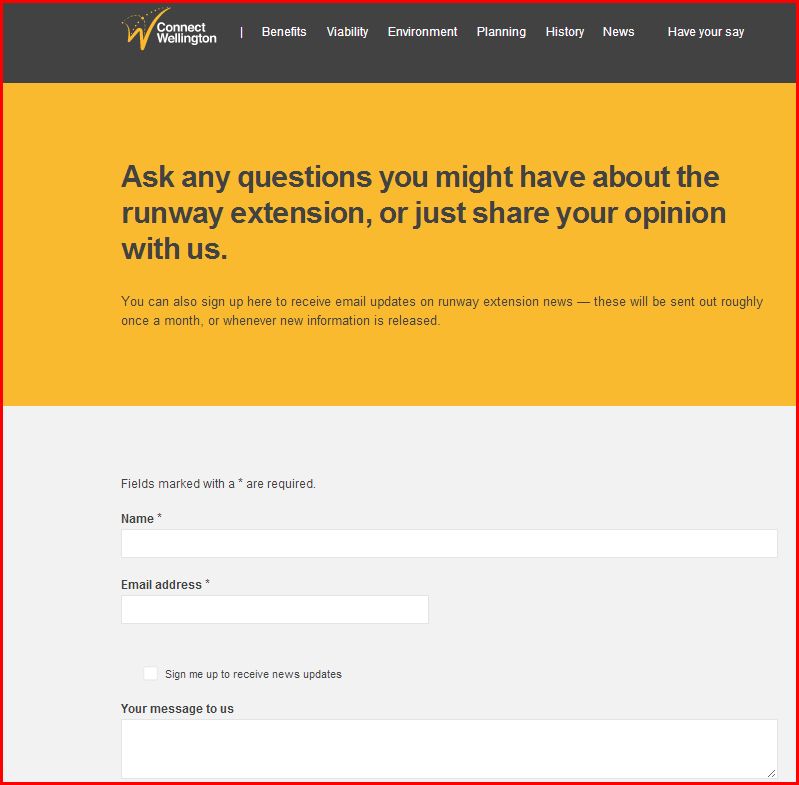 When you make your comments to WIAL you may wish to highlight several of the following points.
My concerns with the proposed airport extension relate to;
Lyall Bay is recognised as being one of the first three venues surfed in New Zealand by the father of modern surfing, Hawaiian Olympic gold medallist Duke Kahanamoko in 1915. Lyall Bay has cultural significance nationally (and regionally) to the sport of surfing in Aotearoa.
Surfbreaks are protected under the New Zealand Coastal Policy Statement 2010, policy 16 that focuses on avoiding adverse effects on surf breaks of national significance. Airport rights at the south eastern end of the runway will be destroyed by this development and; surfing wave quality, especially wave height may well be affected at the corner surfbreak due to refraction.
Lyall Bay – Wellington, along with Fitzroy Beach – New Plymouth, Mount Maunganui – main beach and coast, Wainui and Waikanae Beach – Gisborne, and St Clair Beach – Dunedin, were accepted as examples by the board of inquiry to the 2010 NZCPS as nationally significant nursery surf breaks.