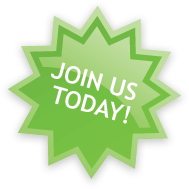 News Archive
May 2015 Monthly update
A Roundup Of Surfbreak Protection Issues in May.
A special thanks this month to Marie Ockleford who has taken the time to redesign our newsletter template, much appreciated.
Northland
Northland Regional Council (NRC) is pushing ahead with plans to REDUCE protection for its regionally significant surf breaks –
NRC is "consulting" on which regional surfbreaks should be recognised in its Regional Coastal Plan – which is a requirement under the Resource Management Act where regional councils must give effect to the New Zealand Coastal Policy Statement (NZCPS).
NRC have predetermined that they will only recognise 12 -15 regional surfbreaks (in addition to the 4 Nationally recognized surfbreaks).
The reason given for this over the phone with SPS is that it would be "easier to manage" rather than identifying and mapping the 70 or so surfbreaks recognized in the Wavetrack New Zealand Surfing Guide (http://www.surf2surf.com/surf-guide.php ).
Wavetrack was recognized and accepted as a legitimate identification proxy by the NZCPS Board of Inquiry for identifying breaks of national significance. It follows on from this that the Wavetrack guide must be accepted as a legitimate proxy for regionally significant surfbreaks.
SPS and one or two others were submitters to the NRC Regional Policy Statement, and asserted that surfbreaks should be recognised in that plan, but NRC staff assured us that surfbreak identification and recognition would be addressed in the Regional Coastal Plan, SPS were initially overlooked for this consultative group, and ended up with only 48 hours notice of the date set for their consultation workshop, and could not make it in the time given.
It's obvious that any council cannot do "less than" the NZCPS requires, If the other 55 or so surfbreaks aren't initially recognised, they will have no protection – its that simple.
SPS will be contacting those boardrider clubs that attended over the next few days, to gather their views and collaborate further.
The Powerpoint presentation for the 22 of April meeting can be downloaded here – www.surfbreak.org.nz/…/05/surfbreak-workshop-presentation.p… (4 MB)

Bay Of Plenty
A regional  chapter of the Surfbreak Protection Society is forming – Mount Surfbreak Protection Society – The group is focused on the protection of surfbreaks from Matakana North to Papamoa with human induced activities in this coastal marine area being of specific concern, for more information contact the crew – m98@bopis.co.nz or info@srfbreak.org.nz
Wellington 
Friday 8th of May – a good presentation to the Wellington City Council Long Term Plan by James Whitaker on behalf of both Wellington Boardriders and the Surfbreak Protection Society with regard to our joint concerns over the airport extension.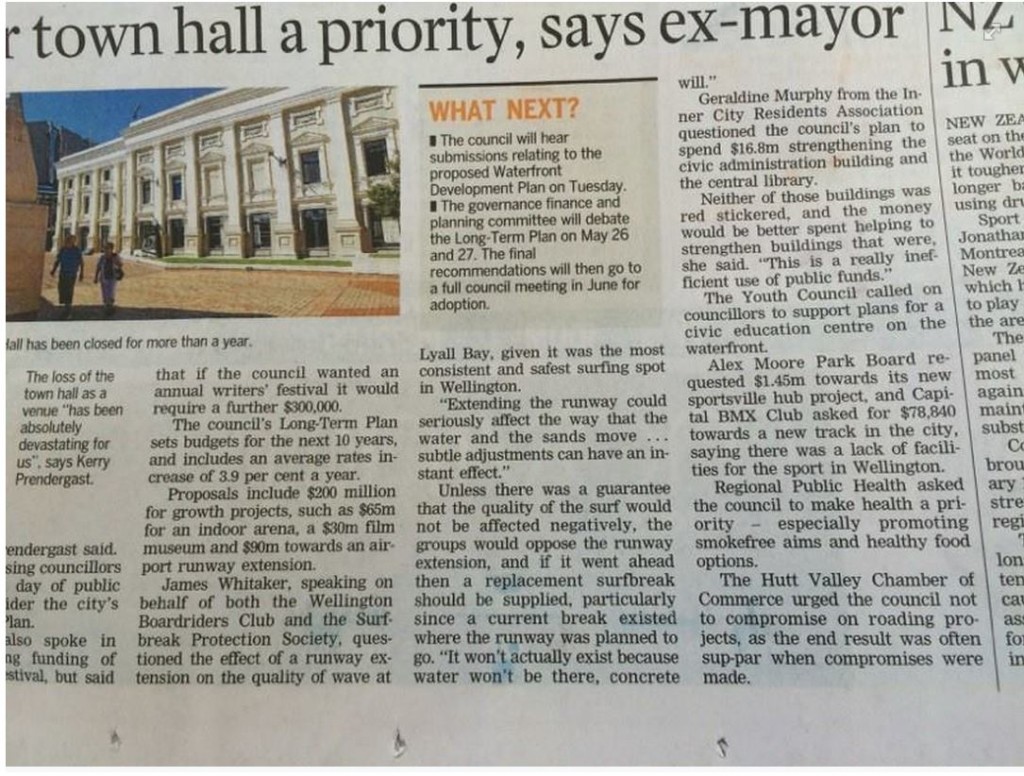 More info on the subject can be found on the Wellington Boardriders website: http://surfingwellington.com/
On Saturday 9th May SPS staffer Michael Gunson flew to Welly, as did Dr Shaw Mead of eCoast Ltd to join a wider group of the Wellington surfing community meeting with WIAL to discuss preliminary findings of DHI's Simon Mortenson – who has been modelling effects of an airport extension on Lyall Bays surfing environment.
There was some disagreement from Shaw as to what small changes to sediment transport would have on the bay's surfbreaks, that information was provided by NIWA who were not present at the meeting and WIAL quickly responded that they would host another meeting with Shaw and NIWA to look at this.
WIAL have asked Shaw to review and respond to technical data within 3 weeks, but the collaboration is to be ongoing and at this stage SPS is satisfied over the level of input Shaw is to have on the project.
Overall there are pluses and minuses to the airport extension, with general agreement that these can be balanced out – with more research and discussion to be had on aspects such as artificial swell focusing and the possible creation of a wave at the end of the extension.
Mike Gunson also had a talk with Greg Thomas of WIAL who was happy with the suggestion that SPS legal consultant Scott Grieve could liaise on the final AEE proposed conditions for consent regarding surfing so as to get an agreed structure going in to the hearings.
At this stage SPS are satisfied that WIAL recognise their responsibility to Lyall Bay and that WIAL are prepared to own any future potential impacts on the Bay.
SPS also point out that the New Zealand Coastal Policy Statement 2010 – Policy 16 is quite clear in that adverse effects to surfbreaks are to be avoided.
WIAL have stated that building south instead of North will save them many millions of dollars, SPS and Wellington Boardriders  agree that a respectable fraction of those savings must be put to the ongoing protection and enhancement of Wellington's,- no, NEW ZEALAND's historical surfing heritage site – Lyall Bay.
Lyall Bay Car Park
the Corner car park at Lyall Bay was built in the early nineties and extended yet again into the surf zone some years later, its not  an asset to the bay and a permanent solution needs to be found.
May 9th and council workers were repairing the Corner car park – after the April storm…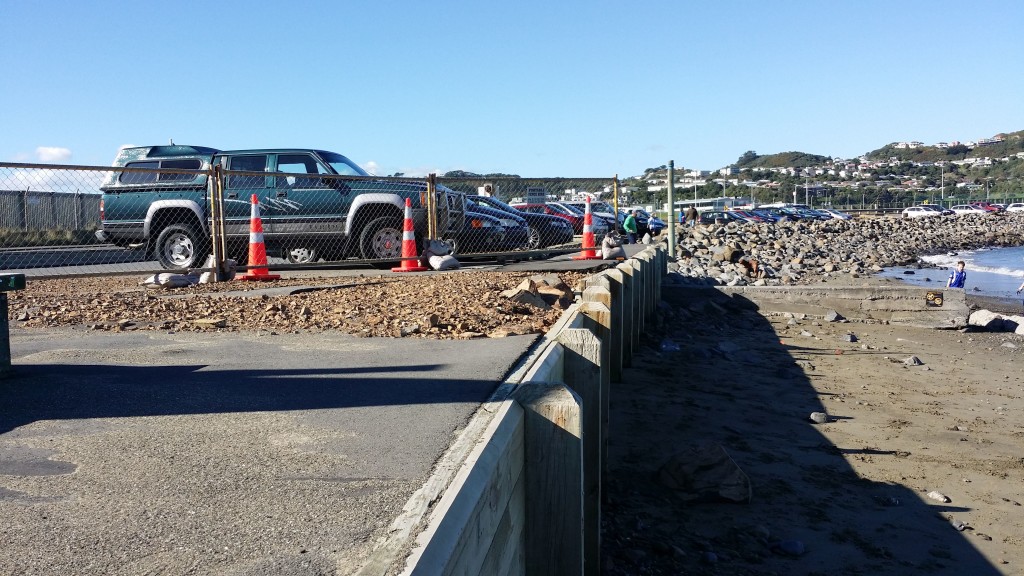 When less than a month later along came….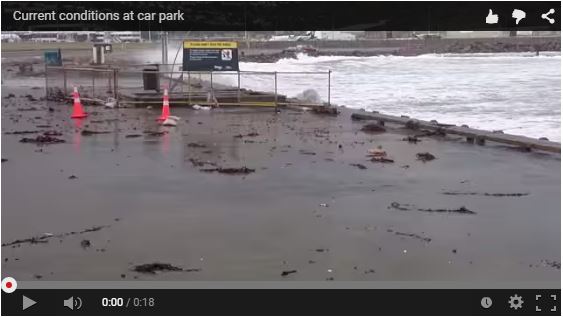 … another storm and more damage.
 Four storms in five years and continuously repairing to the same design specifications  is a waste of rate payers money. The rubble from these regular events repeatedly  pollutes the beach.
This is very poor planning, it is widely agreed in the surfing community that the car park and re – contouring of the corner beach has had a negative impact on the surfing wave.
SPS believe that enough is enough and we are lobbying the councils (WCC and GWRC ) for a review of the situation, and complete rebuild of the car park in a way that is sympathetic to the receiving environment – our surfbreaks. You can help by letting us know what you want for the area, please fill in our short survey and please leave your comments and views on what should be done – we will pass on the results to WCC and GWRC.